Systematic Development of Your Customized Digital Transformation Strategy
Regardless of where you begin your digital transformation – if you want to permanently benefit from efficiency improvements, it's important that you identify the potential with a focus on benefits, quickly achieve the first visible results, and integrate your employees into the digital transformation process.
A systematic approach is the key to successfully implementing the digital transformation at your company.
Digital Transformation Strategy and Envisioned Goals
Lean and digitization are not ends in and of themselves. We work with you to develop a focused strategy that fits your business. It contains the envisioned goals that will guide you through the transformation process as well as the implementation plan in the form of a digital transformation roadmap.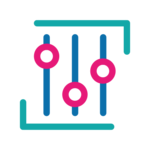 IT Architecture and Application Landscape Optimization
As a result of new technologies such as edge processing, IoT, data streaming, microservices, and containers, companies will need to significantly alter their existing architecture landscape. In order to help clients meet future flexibility requirements, our mission is to guide this transition from a monolithic to a services-oriented system architecture.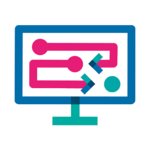 Selection and Implementation of IT Solutions
Each company's specific business processes place different demands on the appropriate choice of software. Allow us to guide and support you on this path, from initiation through system selection to the implemented and accepted solution.
Digital Transformation Project Management
Project management to successfully execute the transformation strategy is carried out either in the traditional way using plan-driven methods (PMI, IPMA, PRINCE2) or – provided the appropriate underlying conditions are in place to minimize risk in the event of uncertainties – using agile methods (SCRUM, KANBAN). Regardless of the selected approach, the focus is always on quality, costs, and deadlines to ensure that the project is a success.